This is the first Feetz shoe made for athletic performance.

It was designed for use in basic training for different sectors of the US military, including the Air Force and Army. This shoe would be what recruits wore when boots weren't required, so it had to accomodate a wide range of tasks and motion.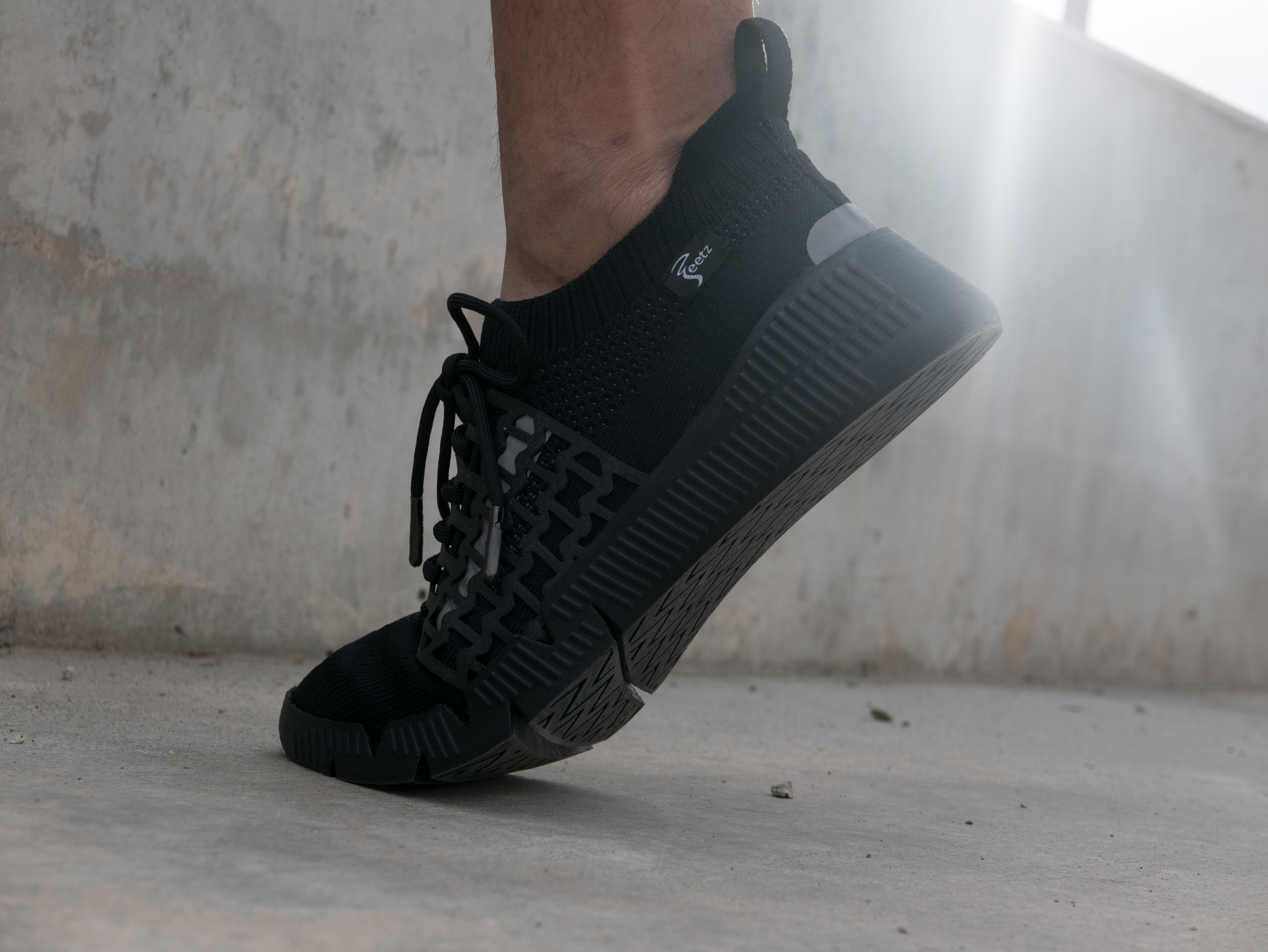 Each contract had detailed specifications outlining required features and tests for the shoes, many of which were specific to traditionally manufactured, mass-produced footwear.


Among the requirements new to Feetz shoes were a strobel stitched upper and laces.

We knew 3D printing would excell and add new value in other areas, such as highly specific measurement requirements, part reduction, an unconstrained size ladder, and the opportunity for domestic manufacturing.

Version One retained the same upper as other Feetz shoes, but we found that since the Feetz upper was designed for custom fit, the laces didn't add the adjustability needed for a performance shoe.
This requirement promted a switch in upper material, which led to Feetz to sock uppers.
Sock uppers required a tub sole to hide the strobel stitching. Most Feetz shoes are printed with the footbed against the printer bed, so adding a tub would be impossible without using supports. The use of supports adds significant print and post-production time.

Alternatively, the midsole can be printed in two parts to create a tub sole without supports, but this adds cost in other areas, such as the use of two printers, double the labor for printing, further labor for assembly, and glue dry times.


By printing "upside down" the part could be printed in one piece, without supports.

This allowed for a contoured footbed without the use of an insole, making for a more comfortable and stable shoe and eliminating a printed part. Arch support could be printed in as well, had the spec not required against it.
Printing in this orientation also allowed for toe spring, which was a welcome improvement in our shoes. This was achieved by bending the sole around the curve of the last during assembly.


3D printing allows for different durometers within a single part, without any assembly.


In a custom performance shoe, support could be more specifically tailored to a wearer's gait.


Areas of adjusted durometer for stability (left) and motion control (right) compared with a neutral sole (center)
Sizes 12D and 8B. The infill is increased to support the heel strike in a heavier wearer.
3D printing also allows for durometers to change within a size run. This can address greater overall weight of the wearer without a change in material.
Auxetic cage: forms easily around a dually curved surface

64 eyes: allow for customizable lacing support

Dual duty laces: Type 3 7-strand paracord, rated for 550lb

Sock upper: Recycled polyester

Sidewall pattern: inspired by the standard issue M4 rifle